All About Stuffed Silly.
just in case you were wondering....
The Company and the Toys
Stuffed Silly is a small Canadian based company located in Ontario. I'm happy to say that this business has been a big part of my life since 2008. The toys are designed, patterned and made by me. I try to develop unique designs and one of the things I focus on is quality. Since Stuffed Silly is currently a one woman operation (and I don't enjoy making the same thing all of the time), my toys are all limited editions. I'm hoping to continue creating these cute, lovable and sometimes silly plush characters by turning them into something you can hug.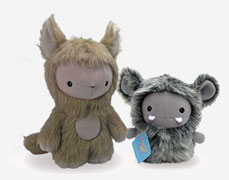 About the Artist
I'm flattered that you've stumbled upon this page. If you're still reading this, you must be interested about me and the work I do. Thank you! My name is Lisa Edwards and I'm the designer behind Stuffed Silly. I went to college to study Fashion Design and after a few years of a career in fashion, I decided that it wasn't the path for me. The reason I started this business is well... I love making plush toys. You can be as creative as you want and looking at the finished product is probably the best part. Some of the designs don't always work out but isn't that how it is with everything else in life?