Limited Edition Plush Waffle Bunnies
These cute little bunnies come in several colours and are each available in limited editions between 10-20.
They were my first big project. The very first waffle bunny was created in 2005 - you know, that's before Stuffed Silly was even born! Their bodies are made with a soft fleece that has a nice waffle texture. A plain polyester fleece has been used for contrast. It was a little disappointing to find out that the fleece used to make them has been discontinued. Over the years they have gone through so many changes... from wider bodies to longer ears to bigger tails. If you look really close, you can see a slight difference between all of the bunnies.
The Toy Gallery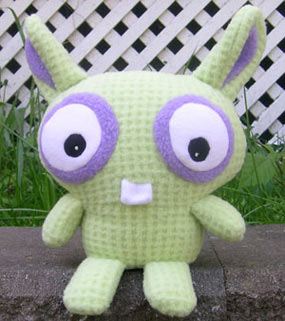 Click on either of the links below to check out some more plush toys from Stuffed Silly...
cute stuffed animals
furry plush monsters